Contemporary art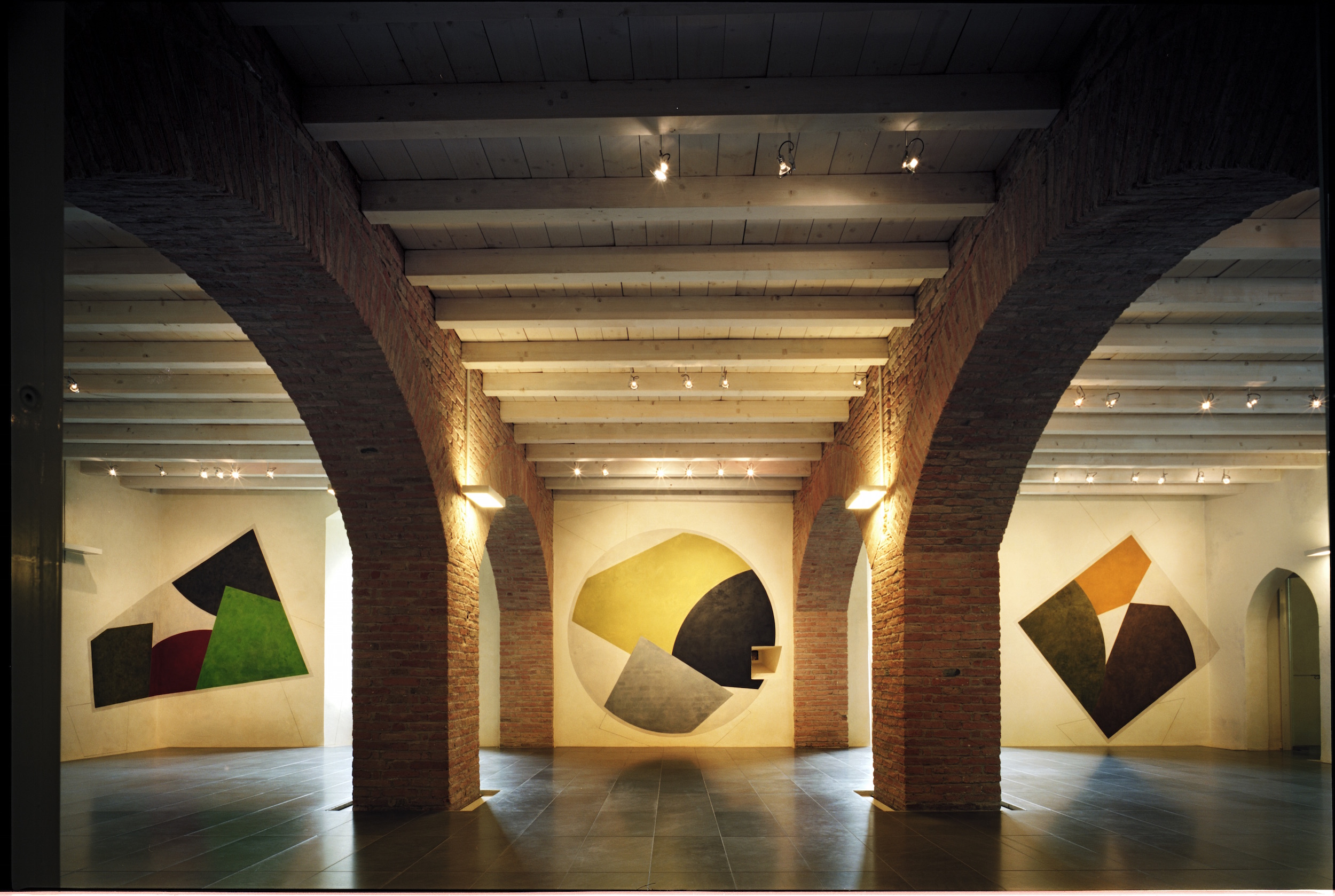 In the Hall of the Arches, at the groundfloor level of the Marquis Palace, the centuries old account of the Castle threads into the permanent work of the English artist David Tremlett, one of most well-known names in the contemporary art scene.
David Tremlett had residencies at the Tate Britain in 1972 and a year later at MoMA in New York. He is a travelling artist who cannot resist coming to Italy. "Italy is a sweet land, soaked in sounds and colours – says Tremlett – where Giotto and Piero della Francesca painted the most extraordinary walls in history".
Tremlett arrived at Formigine, with this same passion, and was appointed to renew the identity of an unadorned fortress. Tremlett conceived a work that interprets the history and the spirit of the monument and its community.
The five wall drawings are associated with the elegant frieze decorated with heralry symbols and contained in the clock tower. This a perfect example of the past dialoguing with the contemporary.
In the Hall of the Arches, Tremlett paints coloured and abstract shapes in breath-taking dance: trapezoids, circles, rectangles, whole or fragmented. What the drawings do is shaping architecturally the walls in such a way that they reveal an inner dynamism while creating a tri-dimensional effect.
The painting tecnique is by all means peculiar to the british artist. Tremlett uses pigments discovered in India. The gaudy and impalpable powders are really in tune with the idea of art as journey and levity. At the same time they also recall the medieval bent for lively colours, that symbolized beauty and wealth.
Prior to Tremlett's work, the Castle had already established a dialogue with contemporary art in 2007 with two major exhibits in the Hall of the Arches.
Binomi was a collective exhibition mixing installation, sculptures, pictures and paintings of five female artists working in Formigine, very much diverse from one another, in age, expression and idioms, and of another five young and promising male artists of the Italian scene.
Lo spirito dell'arte. Opere contemporanee dalla collezione Carlo Cattelani was an exposition dedicated to Carlo Cattelani (from Magreta, Formigine, 1931 – 1999), one of the most interesting and original art collectors in the modenese context. Fifty years worth of history of art summarised in the works of Josef Albers, Joseph Beuys, Gino De Dominicis, Agnes Denes, Lucio Fontana, Gilbert & George, Dan Graham, Sol LeWitt, Alison Knowles, Hermann Nitsch, Yoko Ono, Daniel Spoerri, Atsuko Tanatka, Franco Vaccari, Ben Vautier, Wolf Vostell, , Karen Kilimnik, Sue Williams, Sherrie Levine…
Today the Hall of Arches houses the restaurant, offering a unique experience tasting the flavours of the Emilian cuisine surrounded by a fascinating work of art.
For further information